Just Joshin': Mighty 4-Year-Old Wins Wild Noodle-Bashing Battle Of Hundreds Of Joshes
[ad_1]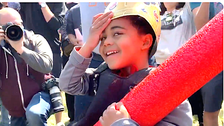 The goofy event, organized by a college student on the chilling fields of Air Park in Lincoln, Nebraska, was aimed at finding a single victorious Josh to stand for all Joshes.
The high-spirited bash was apparently the perfect anecdote for Americans sick of ugly political back-biting, judging by the social media explosion over the event. 
The victor was Josh Vinson Jr. (#LittleJosh), still armed with his red pool noodle, who was awarded a plastic trophy and a Burger King crown that quickly slipped over his eyes. Asked for any words of wisdom, Josh replied: "I fight everyone" — and the crowd roared.
The whack-a-noodle battle was the brainchild of 22-year-old engineering student Josh Swain, of Tucson, Arizona. (Swain has been vaccinated against COVID-19, and many participants wore masks.)
Swain came up with the idea when he was struck by how often his full name would already be in use when he tried to sign up on various internet accounts, he told The Lincoln Star.
So he sent out a Facebook message a year ago noodling about a "Josh Swain Fight" to dozens of others with the same name. Only a few replied. "It was entirely a joke," said Swain.
But then the message went viral on Twitter and Reddit, with followers growing over the year. He decided to go ahead with the event, suggesting pool noodles for friendly jousts among Josh Swains and just Joshes.
He picked the "coordinates" for the event at random. "It was like throwing a dart at Google Maps," he told the Star. He had no idea Thursday if anyone would show up.
The rest is Josh history.
Swain tweeted after the event that "there is only one," in homage to mighty Josh Vinson, or maybe to himself.
Calling all HuffPost superfans!
Sign up for membership to become a founding member and help shape HuffPost's next chapter


[ad_2]

Source