A visit to the gynecologist should be thorough, methodical and focused on you. Your doctor should be able to cover it all: What you need when it comes to reproductive and sexual health, potential pregnancies (and preventing pregnancies) and menopause management.
While most qualified OB-GYNs are well versed in all of that and are patient-focused too, it's not uncommon to hear women say they've dealt with medical practitioners who've left much to be desired.
That's especially true among women who aren't married or planning to get pregnant. Chloe, a 32-year-old from Cincinnati, Ohio, is certain she doesn't want children and told HuffPost she's had "less than amazing experiences" with two different OB-GYNs because of that.
"I was rushed in both visits and left to feel like gynecology-only patients weren't as important or pressing as pregnant patients," said Chloe, who, like others in this story, asked to use her first name only to protect her privacy.
Chloe gets why obstetrics (the branch of medicine that focuses on all aspects of pregnancy) may be where an OB-GYN's interest lies: "Delivering babies is probably why they pursued this field of medicine in the first place," she said.
But from her own experience, it's difficult to find an OB-GYN who's equally interested in gynecology, or who'll hear out her concerns about not wanting to get pregnant.
"I've known that I don't want children since at least high school, but when I asked both OB-GYNs about options for permanent sterilization or getting tubes tied, both dismissed me without much discussion," she said.
"They brought up the possibility of changing my mind or that my future spouse might want kids," Chloe explained. "One of the physicians said that childbearing is a gift, and she wouldn't want to take away that gift."
"Women spend the majority of their reproductive life preventing pregnancy, so it is equally important to emphasize on other aspects of women's health, sexual health and contraceptive options."
Doctors we spoke to said that kind of dismissiveness toward patients is a big red flag.
A quality OB-GYN would be receptive to all of their patient's concerns and able to walk a patient through every stage of life, from menarche to menopause, said Aparna Sridhar, an associate clinical professor and a full scope clinical expert in obstetrics and gynecology at UCLA Health.
"Gynecology is closely associated with obstetrics ― reproductive health and pregnancy related care ― but women spend the majority of their reproductive life preventing pregnancy, so it is equally important to emphasize other aspects of women's health, sexual health and contraceptive options," Sridhar said.
Now more than ever, it's important for physicians to have knowledge and understanding of LGBTQ needs and culturally competent care, Sridhar added.
"If we lack empathy and fail to establish rapport and level of comfort, it can create significant barriers to an open communication between patient and provider," she said.
"Ultimately we should be emphasizing on patient education, preventive care, and a comprehensive approach to women's health in a long-term patient-provider relationship," Sridhar said.
If you're not sure if your OB-GYN is up to par, below we outline five signs it may be time to look for a new doctor. (Plus, we offer a few tips on how to find a better doctor.)
1. They don't provide you with comprehensive info on all your options.
Any physician, regardless of specialty, should provide comprehensive information that empowers the patient to make informed choices, Sridhar said. A doctor worth their salt respects a patient's autonomy, walks them through all their options, and supports their decisions.
"This becomes even more important for OB-GYNs as we should be able to keep our own biases, personal reproductive health and societal norms aside while counseling patients on reproductive and sexual health," she said.
2. They're qualified, but not compassionate.
A doctor can be medically competent, but you also need someone who is compassionate and has a style that matches yours, said Allison K. Rodgers, a reproductive endocrinologist at Fertility Centers of Illinois.
"Gynecology deals with such a sensitive and personal part of your body," she said. "You don't want to feel ashamed or embarrassed by asking your questions. You need to find someone who you feel comfortable asking and discussing even the most private and embarrassing topics."
Sometimes providing gynecological care means dealing with significant emotional challenges from patients. A patient may be facing fertility struggles, managing sexually transmitted infections, or experiencing an unplanned pregnancy.
"A good doctor strives to provide emotional support while creating a non-judgmental environment where patients feel heard and cared for," Sridhar said.
How compassionate the staff is and how welcoming the space is matters, too. Numerous studies have shown health care clinics that prioritize the patient's experience can reduce anxiety, lessen pain, and speed recovery and healing.
3. They're dismissive of your experiences.
While pregnant with her first child, Jasmine Creighton remembers being laughed at by her OB-GYN when she mentioned that she wanted to have a natural, drug free, vaginal delivery.
"While laughable to her, I accomplished that goal and more," said Creighton, who is the program coordinator of maternal and reproductive health at the California Black Women's Health Project, a nonprofit organization that raises awareness about medical racism and supports Black women in receiving equal health care.
When she later became pregnant with her daughter, Creighton returned to the same OB-GYN, but then decided to go with a Black midwife instead who helped her have a home birth.
"There is no worse feeling than thinking you are not valued," she said. "You matter. Your health and life matter, too."
Sheryl, a 29-year-old married woman, had a similarly dismissive experience with her OB-GYN when she requested a full STD panel after her husband had cheated.
Sheryl would like a better doctor ― one who's a person of color, ideally ― but that would require her to drive 30 miles.
"For the time being, I figured at least I know the quirks my current doctor has, and she's nearby so I can go on my lunch break from work to appointments," Sheryl told HuffPost. "But eventually, I want someone who is kind, gentle and will listen to me."
4. They medically gaslight you.
As a patient, you deserve to be heard and have your concerns addressed ― your health depends on it.
"Be on the lookout for medical gaslighting, which is when a patient has their symptoms minimized, dismissed, ignored, or told it's 'all in their head,' leading them to question themselves," said Jessica Horwitz, a nurse practitioner and the chief clinical officer at Tia, a national women's health care clinic.
Being conscious of medical gaslighting is especially important for women since studies consistently show that women are more likely to be misdiagnosed than men. And female-specific conditions like endometriosis and fibroids often take 10 or more years for accurate identification, Horwitz said.
According to her, medical gaslighting can look like:
Your provider continually interrupting you and not appearing to be listening

Your provider downplaying your symptoms or refusing to discuss them seriously

Your symptoms are attributed to mental illness, without an appropriate work up or mental health care follow-up
Medical gaslighting is particularly common for Black women, which can have huge health consequences. Black women are three times more likely to die from complications related to pregnancy/labor than white women. Additionally, there are a range of women's health conditions to be aware of outside of just pregnancy, Creighton said.
"Black women are typically more prone to fibroids and are disproportionately affected by other women's health issues like PCOS," she said. "So it's critical to have culturally competent and aware providers who can understand these nuanced issues, how women's health care varies by race and background, and be willing and able to provide care that suits every woman's unique needs."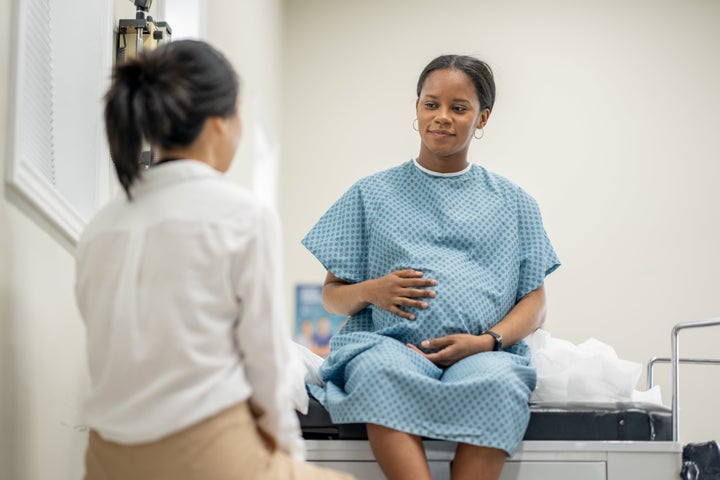 5. They don't ask you about your thoughts on their treatment plans.
A quality physician makes sure they're informing you and allowing you to share your comfort levels and concerns about all the options they're presenting you, Creighton said.
"For example, if an OB-GYN suggests birth control but perhaps you are uncomfortable taking it due to previous side effects or negative experiences, a good OB-GYN would want to hear that and potentially offer recommendations that are more aligned with your comfort level whenever that is possible," she said.
A good practitioner knows when to tell you all of your options in a transparent and professional manner, "while still being empathetic and understanding of how you feel about those options and whether or not they align with your unique lifestyle, culture or situation."
How to find a better OB-GYN
If your OB-GYN struggles with some of the above, it may be time to look for a new doctor. Here's how to begin your search.
Know who's in your network.
If you're insured, start your search for a new OB-GYN by figuring out which doctors are in your network.
Choosing an OB-GYN in-network usually means your insurance will cover more of their services, and that they'll likely be less surprise fees later on. Use your insurance's directory to find an OB-GYN near you.
Ask for referrals.
Ask your family and friends who they go to and what their experiences have been like. (Ask your primary care doctor, too.)
"It helps tremendously because we get to know the physicians and their office have already been vetted," Creighton said.
Do some research online.
If a friend referral isn't possible, Creighton likes to comb through online reviews and spend time reading the doctor's online bios to learn more about their beliefs and practices.
Rodgers recommends checking a local Facebook group, like a local online group for moms.
"Even if you aren't a mom, some of the mom Facebook groups are great resources," she said. "If others had a good experience, you likely will as well."
Keep in mind that fake patient reviews are making it increasingly hard to trust experiences with doctors on Google, Yelp and other directory sites.
"I've found that people only post if they are very happy or very upset," Rodgers said. "Just got to take those with a grain of salt."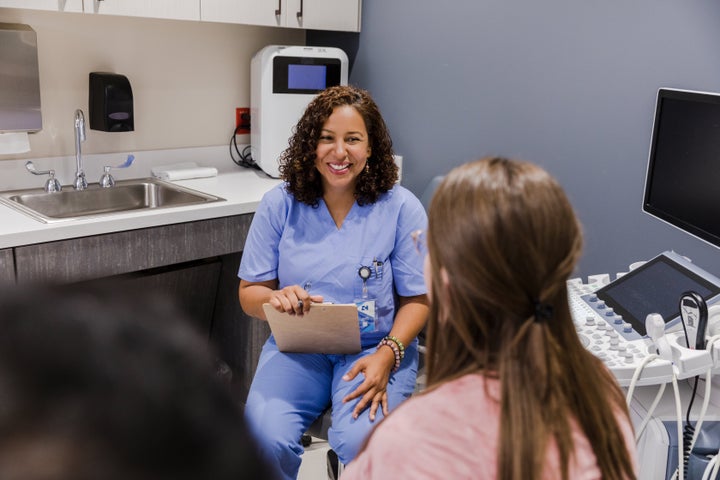 For routine care, consider nurse practitioners or physician assistants, too.
Currently, there's a national shortage of OB-GYNs, and it doesn't seem to be getting better; in the years since the Supreme Court decided on Dobbs v. Jackson Women's Health Organization, OB-GYN residency applications dropped 5% nationally and 10% in states with abortion bans.
Give that shortage ― and the other barriers to access that patients face when looking for an OB-GYN (a doctor being out-of-network with a preferred provider, having limited choices within the network, finding a physician who's accepting new patients and who's nearby), you may want to consider seeing a nurse practitioner or physician assistant for basic needs.
"For most patients and most routine care, advanced practice providers such as NPs or PAs are great at care," said Rodgers. "They often have more time with patients than a physician would have."
For more complex, unusual or surgical issues, a physician is the best bet, she added.
Remember it's OK to "interview" your doctor and shop around for another, if need be.
If you don't like who you're paired with, remember that your decision doesn't have to be final. You can always shop around for doctors.
If you want to get a sense of whether you and an OB-GYN are a good fit during your first appointment, Horwitz recommends coming prepared with questions.
"Come to your first appointment ready with topics or questions you want to discuss, and don't be afraid to write them down in advance if that helps," she said. "A good provider wants to discuss and understand your health, but ultimately you're the decision-maker and should be the one driving the conversation."