Three years into her tenure as a talk show host, Drew Barrymore has patented the art of a good, revelation-filled celebrity interview.
At first, it seemed like CBS's "The Drew Barrymore Show" would be just another celebrity talk show ― a pandemic pick-me-up with a particularly enthusiastic host. (Jezebel's Rich Juzwiak noted early on in Season 1 that the actor approached pretty much every topic "with an Oprah-discusses-bread level of enthusiasm.")
But since those days, Barrymore revealed that, like Oprah Winfrey before her, she's an able and accomplished interviewer.
While other talk show hosts fish for PR-approved anecdotes, Barrymore uses self-disclosure to get her guests to open up; they open up about emotional, thorny subjects because she does, too. The 48-year-old thinks nothing of casually tossing out some embarrassing (or even painful) anecdote from her four decades in Hollywood or her personal life to show how she relates: Her addictions at an early age, her recently lackluster dating life, to name two.
It's more than just self-disclosure that makes Barrymore so good, though. She has a gentle, almost enveloping body language that makes people feel emotionally safe. Sometimes she even kneels on the floor and makes direct eye contact with whoever she's speaking to, as she did during her interview with transgender actor Dylan Mulvaney, much to the annoyance of those at Fox News.
In an interview with actor Brooke Shields earlier this month, Barrymore sat cross-legged and listened raptly, seemingly relieved to have someone on her couch who could relate to the horror show of growing up in Hollywood with an overbearing stage mom and being sexualized in the industry at far too young an age.
"What did you have to tell yourself? Because we can all fall prey to our worst insecurities and demons," Barrymore said. "I wonder sometimes if anyone could say anything worse than I say to myself ― I'm working on that."
"I'm working on it, too!" an emotional Bailey told Barrymore (who, true to her nature, then got down on her knees and grabbed onto the singer's hand like they'd been besties for years.)
With Machine Gun Kelly, Barrymore was content to just let him paint her nails when the rapper admitted he wasn't in a good mental health space on that day and wasn't sure how to navigate a TV interview.
Barrymore's style of celebrity sit-down is certainly unconventional ― comparatively, Oprah, the queen of daytime talk shows, kept her guests at a firm remove ― and there's plenty of memes gently mocking her approach:
Some find Barrymore's accelerated intimacy a little cringe ― and sure, maybe it kind of is. But there's also subtle genius in her ability to get people to open up and feel safe in their vulnerability, even as 1.21 million people watch at home.
"Honestly she's a master interviewer, a gift to us all," writer Arabelle Sicardi tweeted recently. "That inner child reparenting hits every time."
Barrymore's show is a master class in how to be a better, more empathic listener to the people you care about, too. (Or people you're just meeting. As someone joked on Twitter, "she really has the beautifully intense energy of a girl you meet in a club bathroom at 1am.")
So just what can be gleaned from Barrymore on how to be a more emotionally available friend, especially when they're having hard times? Below, therapists share five Barrymore-perfected communication tips.
Like Drew, try to be 'empathetically curious.'
To understand why Barrymore's so good at communicating and relating to people, it helps to know how empathy functions.
According to Dr. Jodi Halpern, a psychiatrist and professor of bioethics at the University of California, Berkeley, there are two major aspects of empathy: the embodied aspect of resonating emotionally with another person ― the body-language part ― and the cognitive aspect of understanding what they are going through.
"My work calls this cognitive aspect 'empathic curiosity' because the goal is not just to merge with another person but to learn about their story, their distinct experience," Halpern told HuffPost.
"Her emotional resonance with Brooke shows up in her face, nodding with an expression of shared pain," the psychiatrist said.
"With Chloe, she is also showing nonverbal resonance and then asks her about dealing with imposter syndrome with genuine empathic curiosity: 'How do you overcome it?'" she said. "And Drew looks at Chloe with an expression that shows she is listening and taking it in cognitively as well as emotionally."
With Machine Gun Kelly, Barrymore's initial response is a nonverbal one; she meets him where he's at and just hears him out, which is crucial to empathic listening.
"He is more comfortable not making eye contact, and she matches that, giving him space while providing a lovely nonverbal connection as he paints her nails," Halpern said.
You could see how an approach like this would be great on those days when you're feeling low and feel pressure to be "on" around friends; a friend who could adjust to your emotional temperament and be OK with the initial awkwardness would be a game-changer.
Don't know what to say? Let your body language do the heavy lifting.
There's a relieving takeaway here for those of us who don't know quite what to say when someone reveals a meaty, highly personal problem they're dealing with. Sometimes your body language can communicate greater empathy than even the most well-intended words can, said Elisabeth LaMotte, a therapist and the founder of the DC Counseling & Psychotherapy Center.
"When a friend is in pain or expresses vulnerability, it is not uncommon to notice an impulse to pull back or look away," she said. "Drew leans in during the intense moments with immersive facial expressions and sustained eye contact."
That's a tough needle to thread because, LaMotte said, "sometimes, it is optimal to listen and lean in without inserting a shared experience, but Drew walks that fine line with elegance and authenticity."
Don't interrupt someone's story.
Barrymore does something in this conversation with Machine Gun Kelly that is deceptively simple: provide her presence, said Kelsey Crowe, a therapist and the CEO of Empathy Bootcamp, a company that offers courses on empathy intelligence.
"People falsely think saying 'the right thing' is what we need to learn in order to best support someone we care for," she said. "In fact, the most important skill in creating conversation is cultivating presence."
In her empathy trainings, Crowe boils it down to three sequential steps:
Stop talking.
Don't think about how you're going to respond. (It will usually distract you from what the person is saying and feeling.)
Wait three seconds before interjecting what you think or feel or before asking another question.
Obviously, a talk show may not do well with such long pauses, but in real life, three seconds is gold, Crowe said.
"So much more intimate conversation follows when we give people space to talk. We often feel uncomfortable with pauses," she said. "But that's not because silence is a bad thing. We are just not used to it."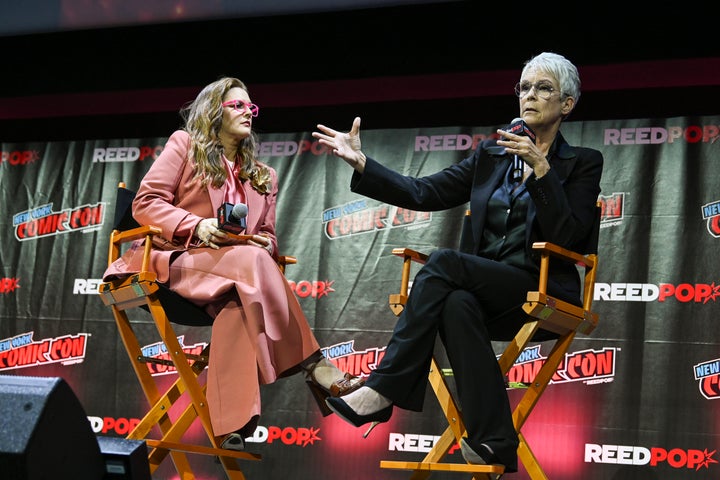 Emotional connection requires self-disclosure: You share, I share.
In order to be an empathetic listener, you need to demonstrate your own vulnerability, which Barrymore is great at, Carder Stout, a Los Angeles-area psychotherapist, told HuffPost.
"You see her revealing that she is fragile, confused, delicate and human," he said. "She meets her guests where they are: This is her true talent."
Barrymore "looks them in the eye, tunes out the audience, holds their hand when appropriate and offers her full attention," he said. "This non-distracted presence is uncommon, especially on a talk show, and it's a pleasure to watch."
Share experiences of yours that are similar, but don't try to one-up your friend.
Our last lesson? Don't hog the conversation when it's your friend's big reveal.
A good, deeply connective conversation relies on mutual self-disclosure, and it should never descend into one-upmanship: "You think you've had it bad? I've had it worse."
"Drew is not afraid to share and self-disclose, but she does so briefly and then pivots the focus back to her guest," LaMotte said. "Her succinct disclosures communicate that her guest is not alone, but she never lets her own personal narrative usurp the spotlight."